Decked-out light displays? Check. A trip on the Polar Express? Check. Caroling, crafts, and Christmas trees? Check, check, and check. Here are 55 ideas for getting out of the house and into the spirit this holiday season.
---
Best Christmas Light Displays Around the DC Area
Get into the holiday spirit at winter wonderlands, drive-through light shows, and menorah lightings.
9750 Meadowlark Gardens Ct., Vienna | November 11–January 8
View this post on Instagram
The botanical gardens transform into a half-mile animated light show. Stop into the gazebo for stunning views reflected on the lake. $16–$20.
7700 Bull Run Dr., Centreville | November 11–January 8
View this post on Instagram
Explore two and a half miles of fairytale vignettes from the comfort of your car, driving past leaping fish, LED archways, glowing candy canes, and sparkling stars. Buy tickets ahead of time for discounts. $30–$40 per vehicle.
4001 Eisenhower Ave., Alexandria | November 18–January 1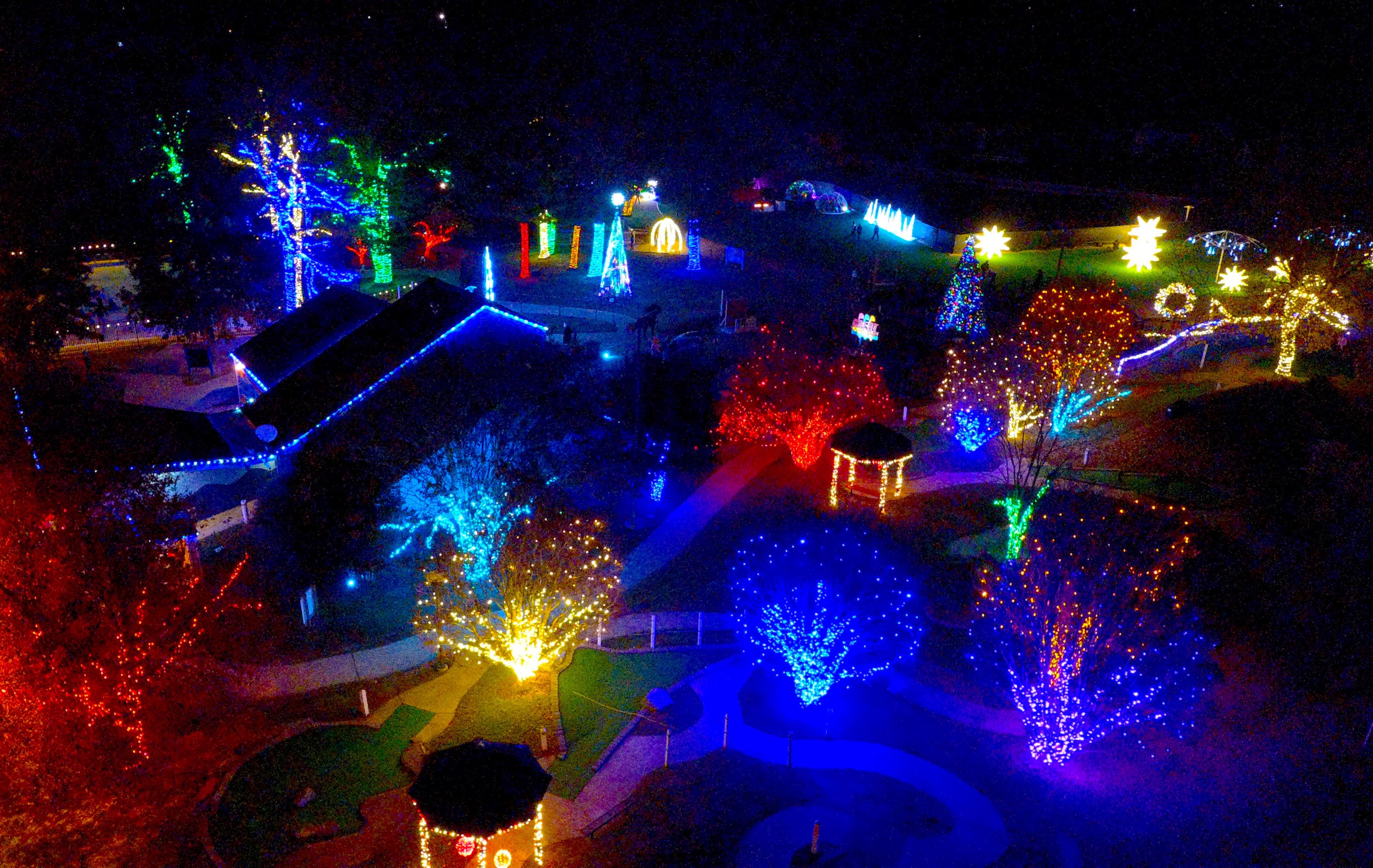 Check out the seasonal hamlet's light display, skate on the ice rink, and snap a holiday Instagram with the giant wreath and walk-through tree. $9–$22.
1238 Maryland Ave., SW | November 18–January 8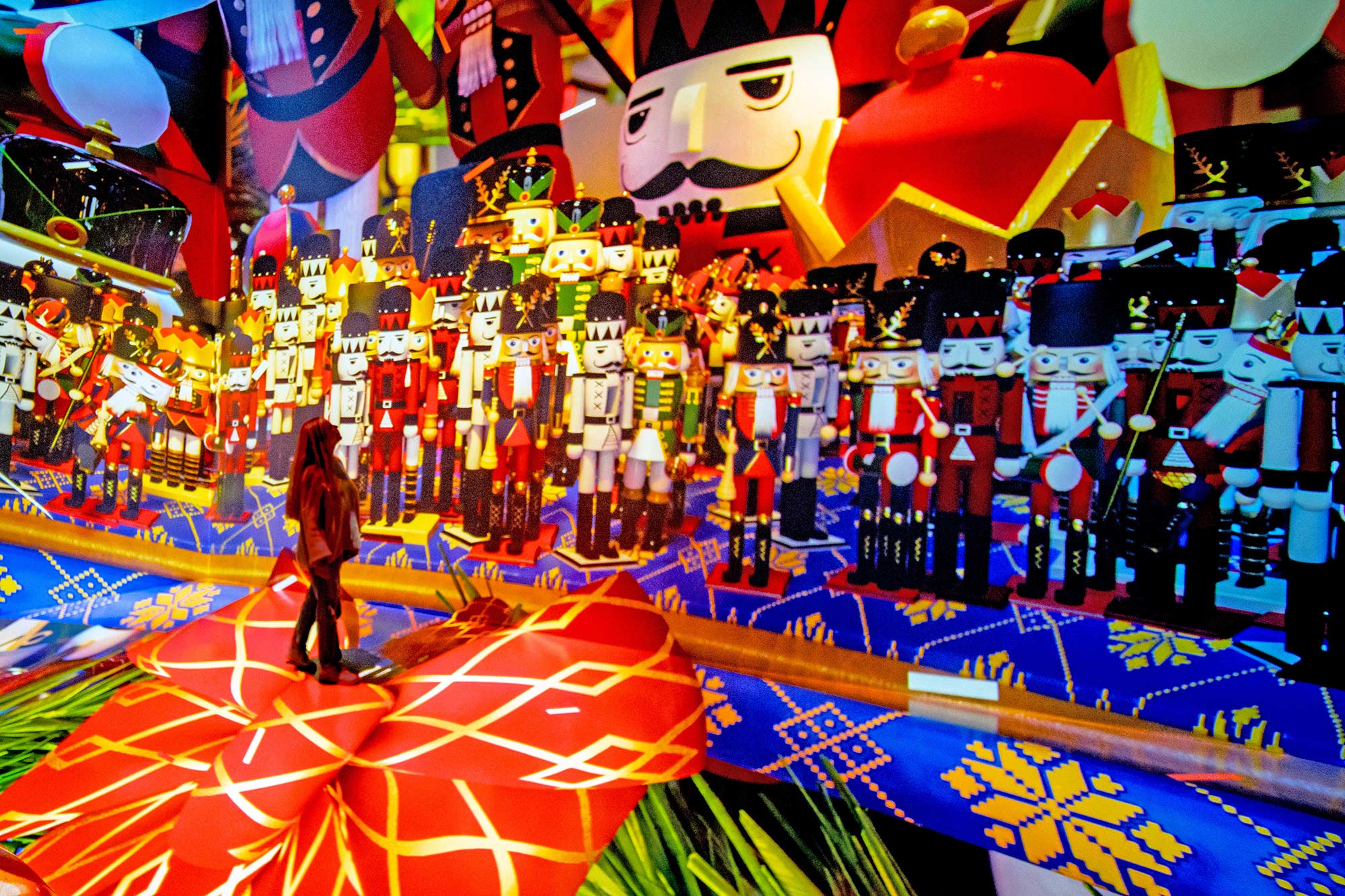 The interactive museum Artechouse is debuting a holiday panorama with kaleidoscopic nutcrackers and a candy-cane carousel. $25.
3001 Connecticut Ave., NW | November 25–December 30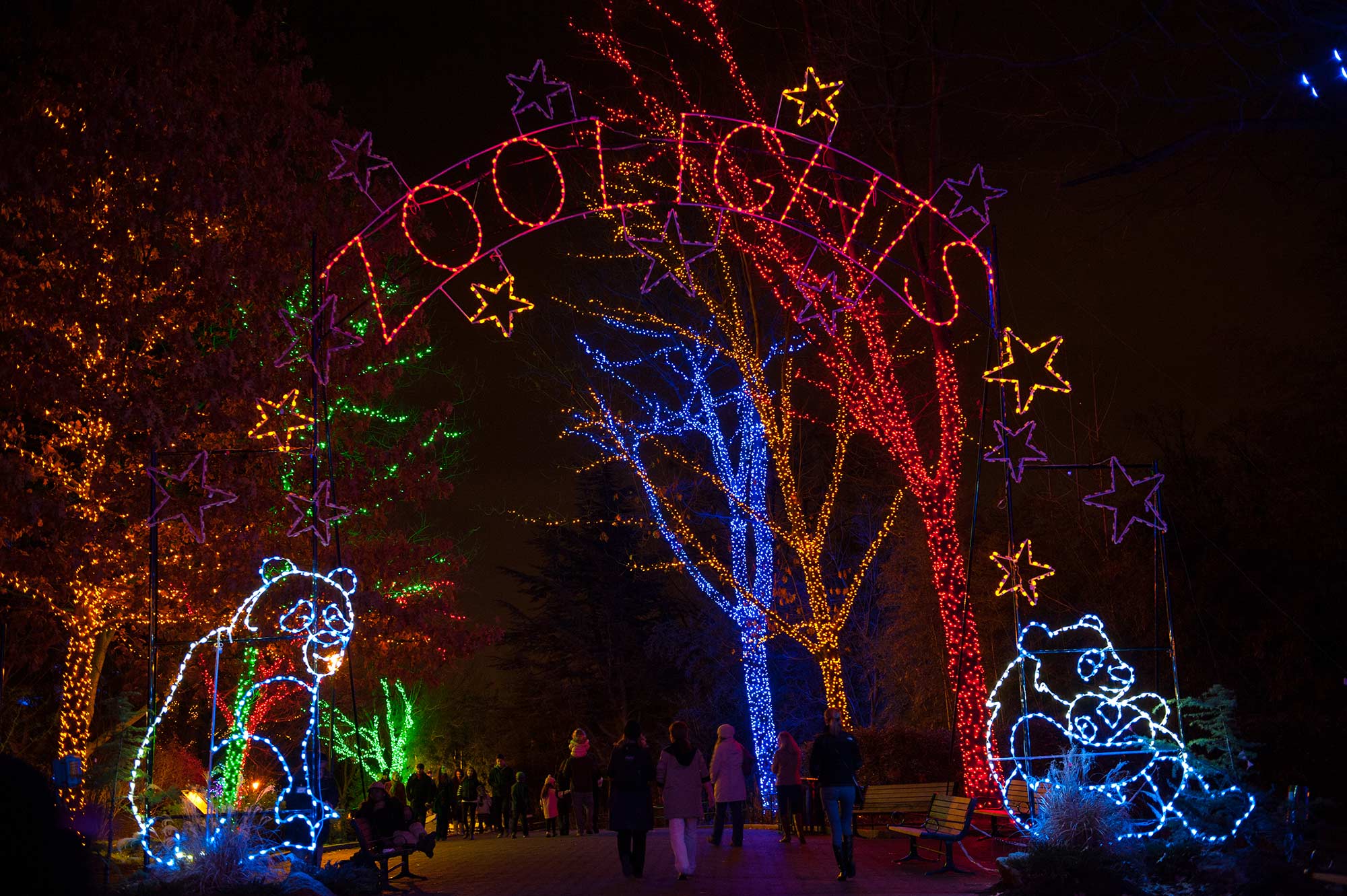 The National Zoo's display returns after a hiatus, with glowing sculptures shaped like animal residents. Sip hot beverages during your nighttime stroll. Free.
11950 Clopper Rd., Gaithersburg | November 25–December 31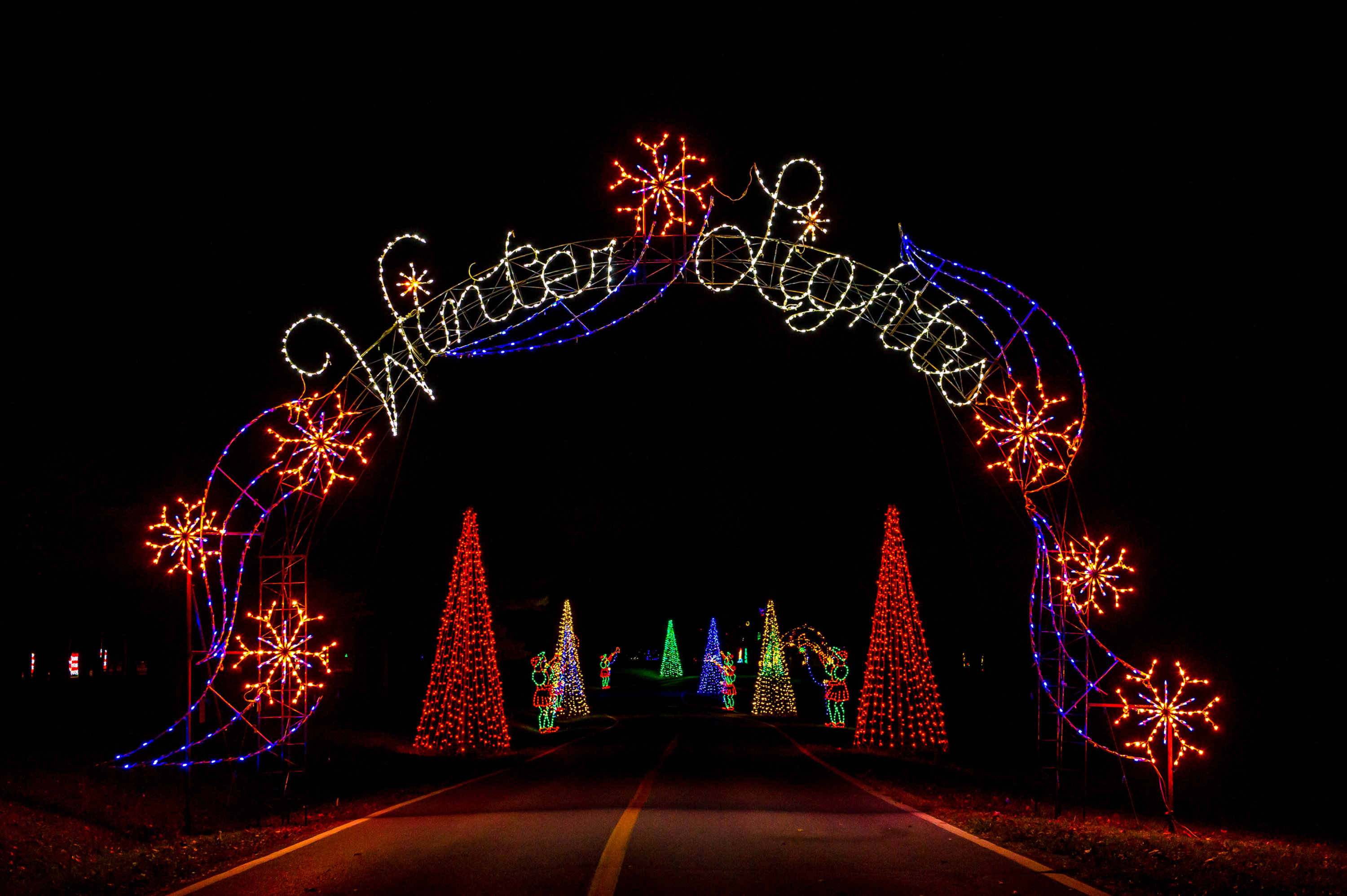 Seneca Creek State Park's 3.5-mile loop is lit up in themes such as Toyland and the Enchanted Forest. Tune into 97.1 WASH-FM for a holiday soundtrack. $15–$25.
1500 S. Capitol St., SE | November 25–January 1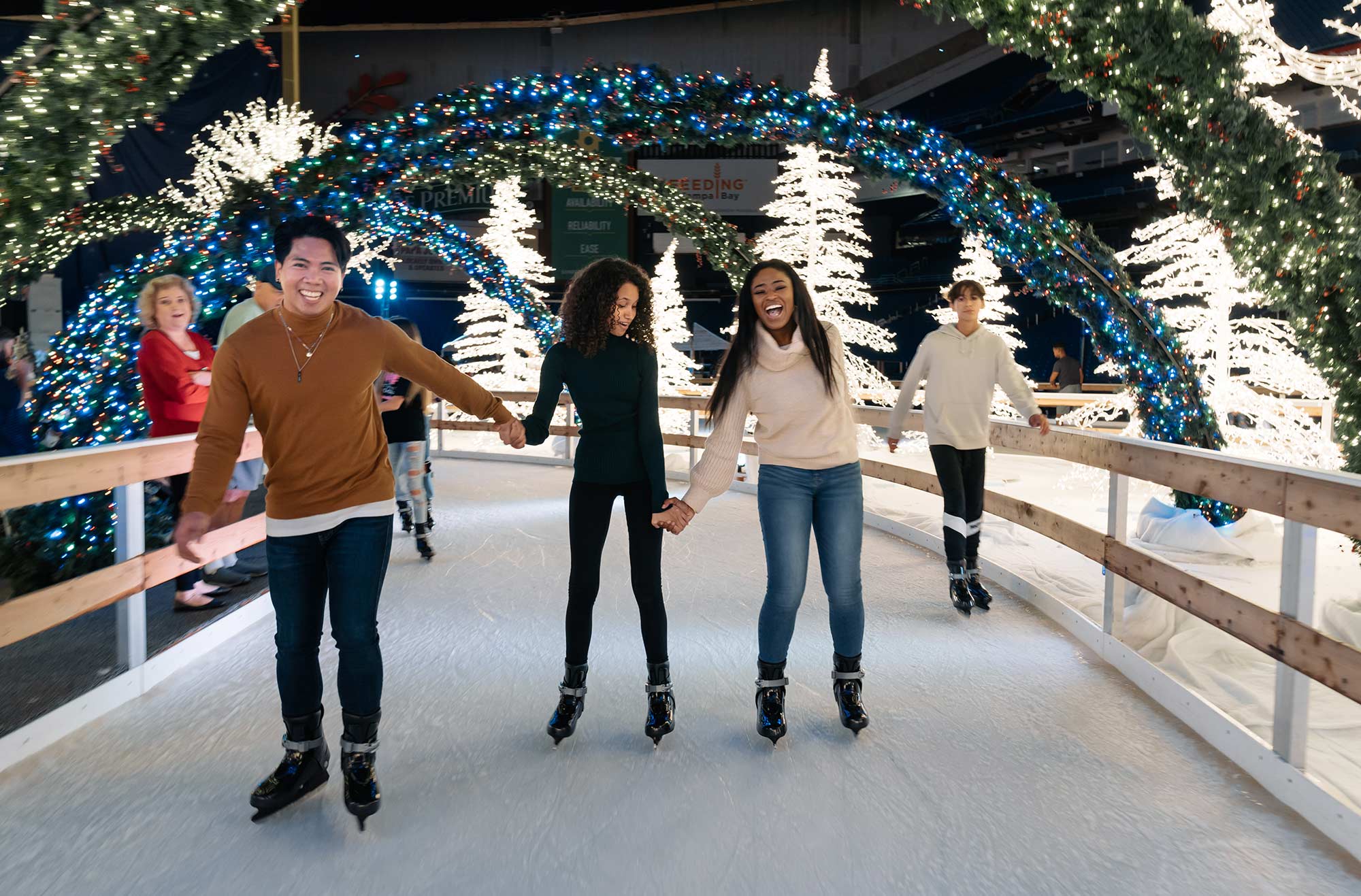 The winter wonderland in Nationals Park features a light maze leading to a 100-foot-tall tree, ice-skating, and a village with artisan vendors. $18–$34.
Georgetown | November 26–January 22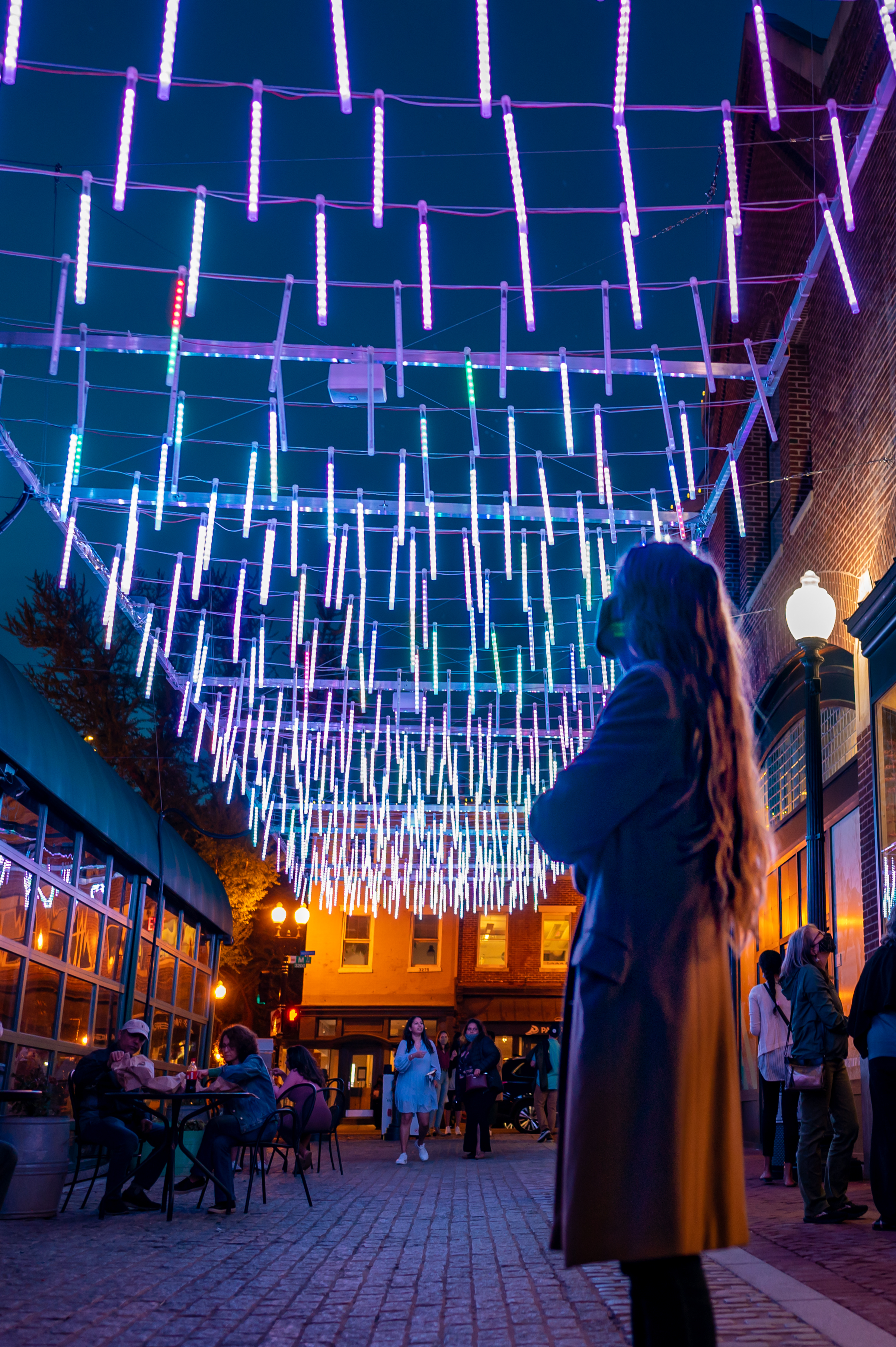 Outdoor art installations radiate colorful neon when the LED lights are turned on from 5 to 10 pm. Guided walking tours are available to learn more about the artistry. Free.
101 District Sq., SW | December 3
View this post on Instagram
Watch festooned boats from the Wharf. In addition to the festive fleet, there's ornament decorating and photos with Santa. Free.
1-A Prince St., Alexandria | December 3
View this post on Instagram
View the decorated sailboats and powerboats from any spot on the Old Town waterfront or head to Waterfront Park for crafts and a pop-up beer garden. Free.
1450 Pennsylvania Ave., NW | December 18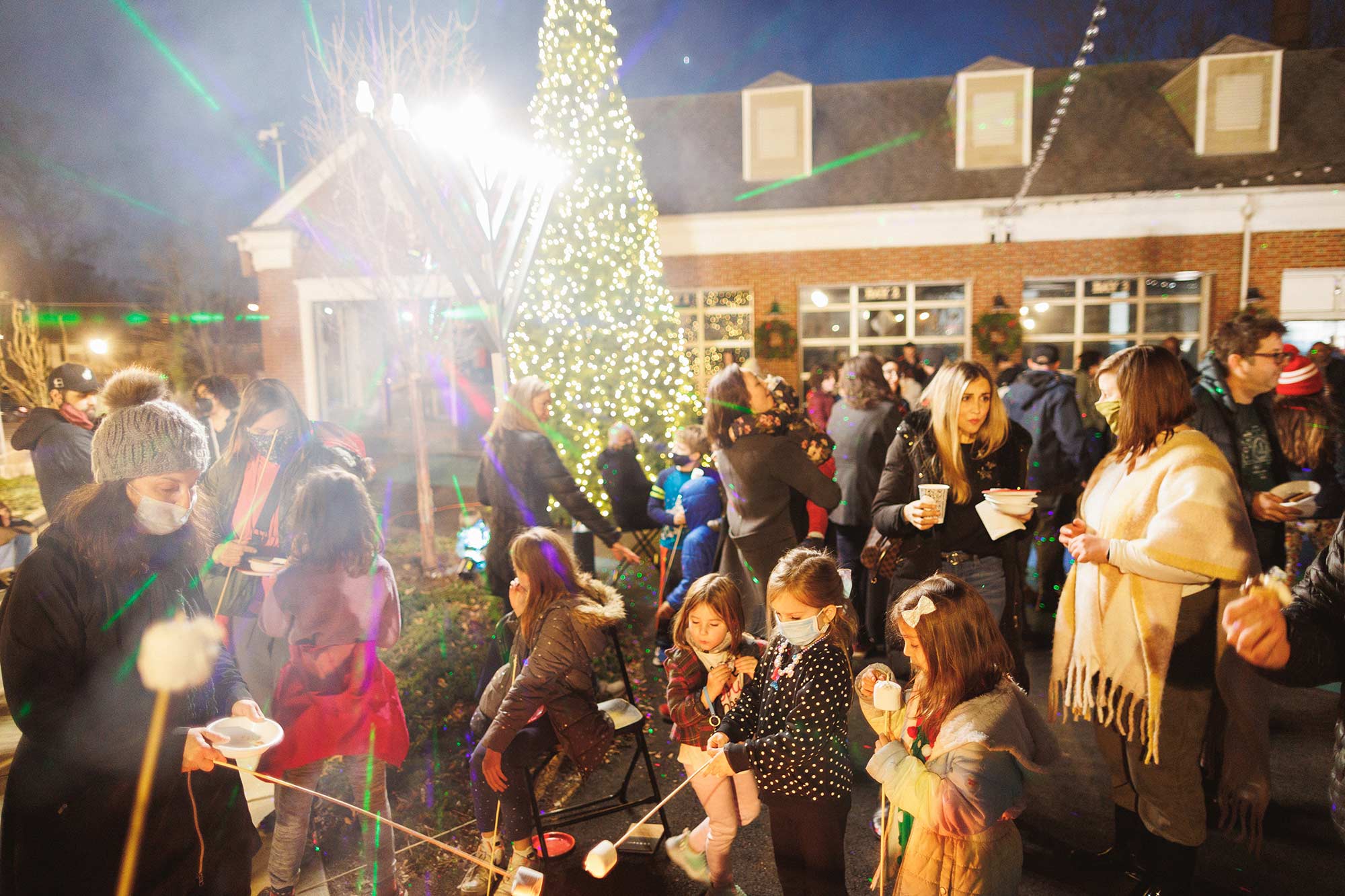 The illumination of the massive menorah on the Ellipse kicks off the eight-day holiday. Revelers can also find musical performances, latkes, and doughnuts. Free.
---
Back to Top
Holiday Markets to Shop at This Season
Shopping for gifts? These markets feature local makers.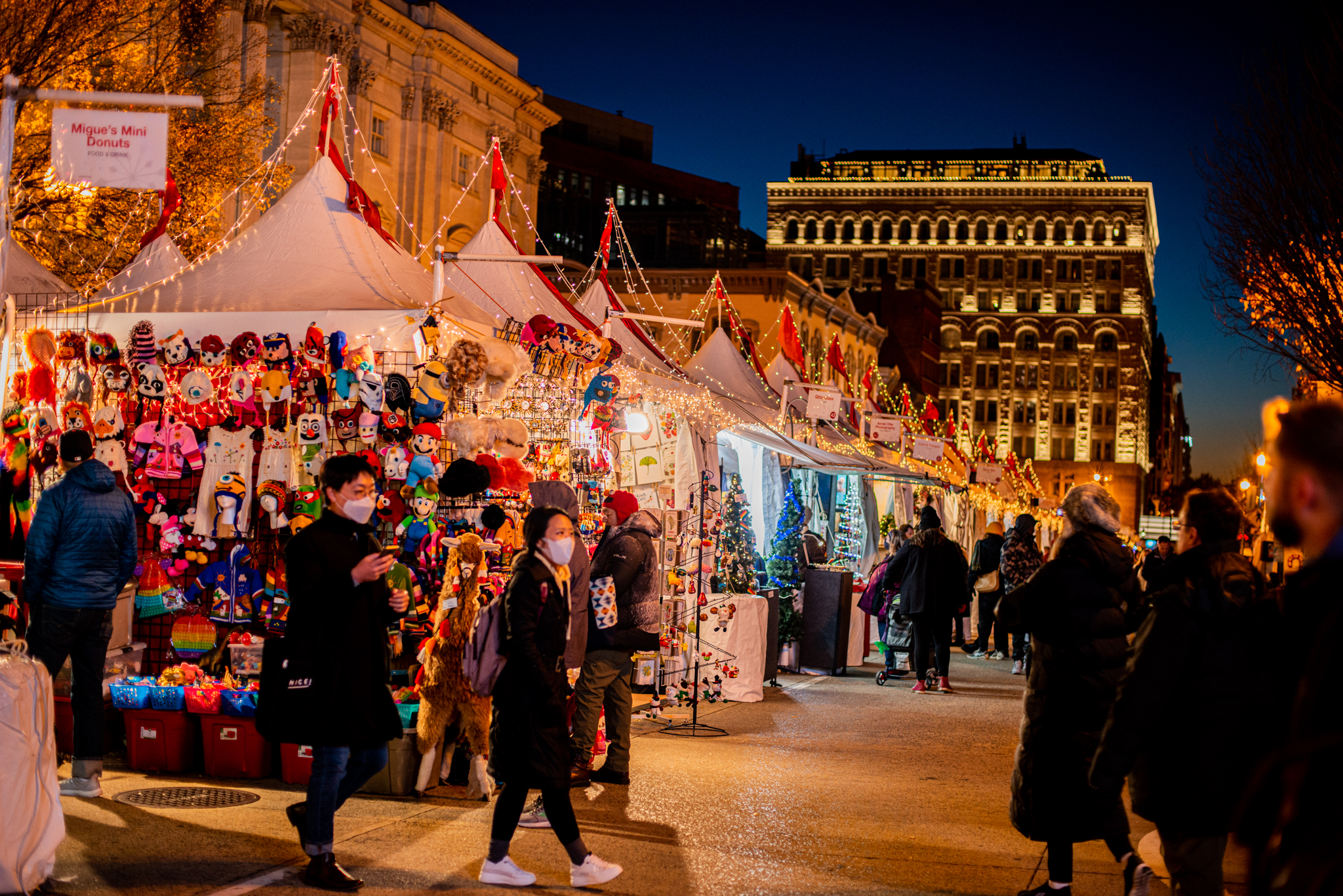 42350 Lucketts Rd., Leesburg | November 10–December 11
The countrycore house looks straight out of a Norman Rockwell painting. Each room has a different aesthetic, with shoppable decor. Timed-entry tickets are required ($25 in November, $20 in December).
797 E. Patrick St., Frederick | November 18–27
At this massive fair, explore seven buildings filled with garlands, toys, ornaments, and pottery, and take a photo with Mr. and Mrs. Claus. $10 adults, $4 children ages ten and under.
F St. between Seventh and Ninth sts., NW. | November 18–December 23
The 18th annual DC market spans two blocks with more than 75 vendors selling textiles, jewelry, soy candles, and more. Live music and churros add to the ambiance.
1307 New Hampshire Ave., NW. | December 2–4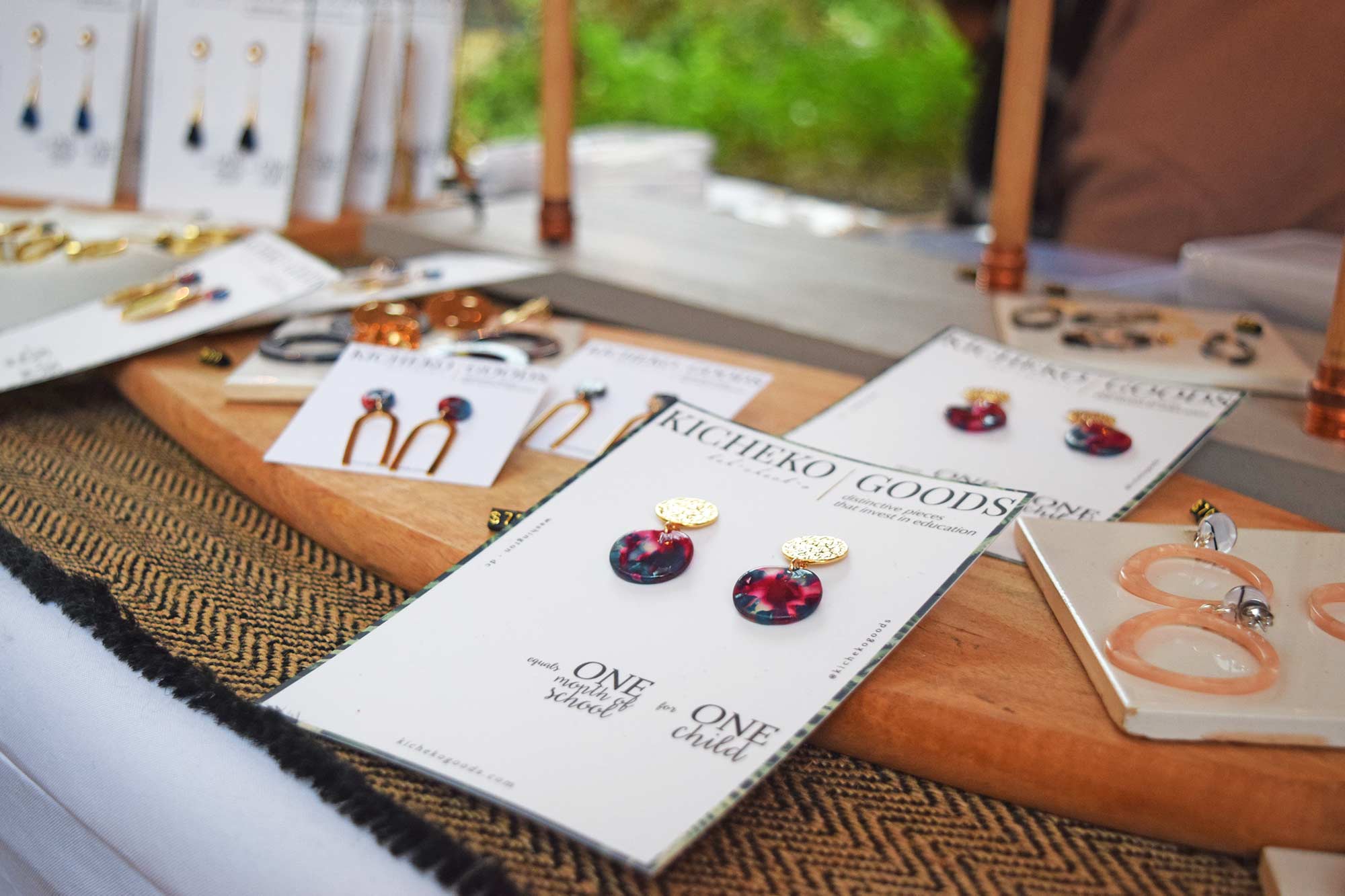 The yard at the brewmaster's castle converts to a German­inspired shopping market with products from local businesses. Warm up with hot mulled wine. $14 adults, $2 ages 15 and under.
201 Ethan Allen Ave., Takoma Park | December 9
Peruse wares from 24 makers under the glowing lights and warm up by the fire pits with seasonal drinks from neighborhood restaurants.
300 John Carlyle St., Alexandria | December 10
Stuff stockings with local products from this market at John Carlyle Square, offering ornaments, jewelry, beauty products, and other gifts from more than 110 makers.
2704 Mount Vernon Ave., Alexandria | December 2–18
A rotating roster of artisans set up shop at the Del Ray Artisans gallery. Pick out handmade gifts such as woodwork, pottery, leather crafts, and jewelry.
514 Rhode Island Ave., NE. | December 17
Kids can send letters to Santa and ride a holiday train while adults shop the Bryant Street development's market.
---
Back to Top
Where to Buy a Real Christmas Tree
Take a pine-scented day trip to these farms and fields to find your perfect tree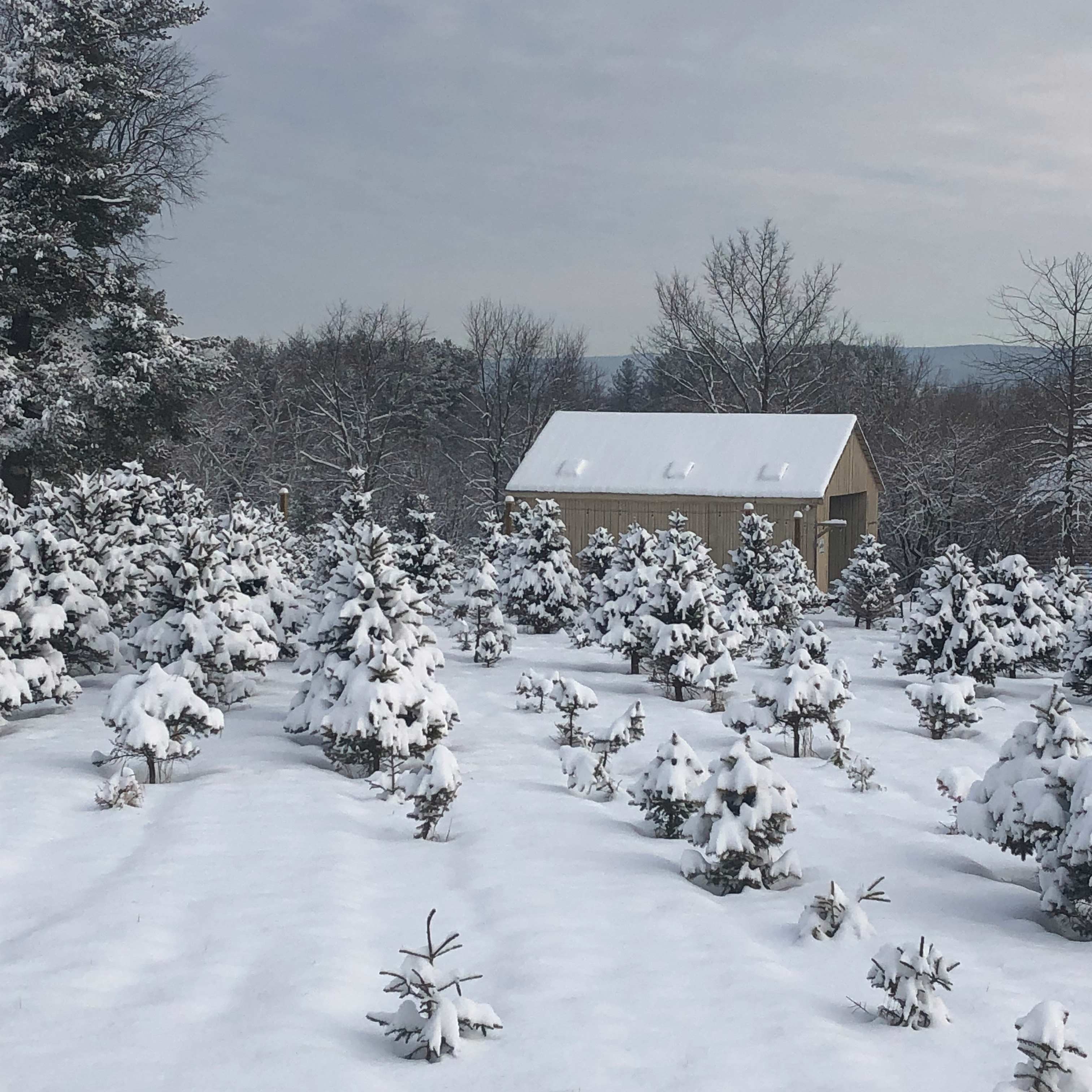 18200 Elmer School Rd., Dickerson, Md. | Opens November 25
Trees of all sizes dot the picturesque nursery, including choppable Douglas fir, Norway spruce, and blue spruce. There are pre-cut options, too, as well as seasoned oak firewood for a holiday hearth.
2700 Sumantown Rd., Middletown, Md. | Opens November 19
Cleave Douglas fir, blue spruce, and Canaan fir at the family-­owned field or pick up a pre-cut evergreen. For tree skirts and ornaments, stop by the Christmas store.
12230 Belle Meade Rd., Markham, Va. | Opens November 25
Sip complimentary hot chocolate while strolling this Yuletide plot near the Blue Ridge Mountains. Cut your own conifer or snag a Fraser fir, which can grow up to ten feet.
---
Back to Top
Try These Holiday Drinks
Put down the eggnog: DC restaurants are serving holiday drinks from around the world. Here are three options.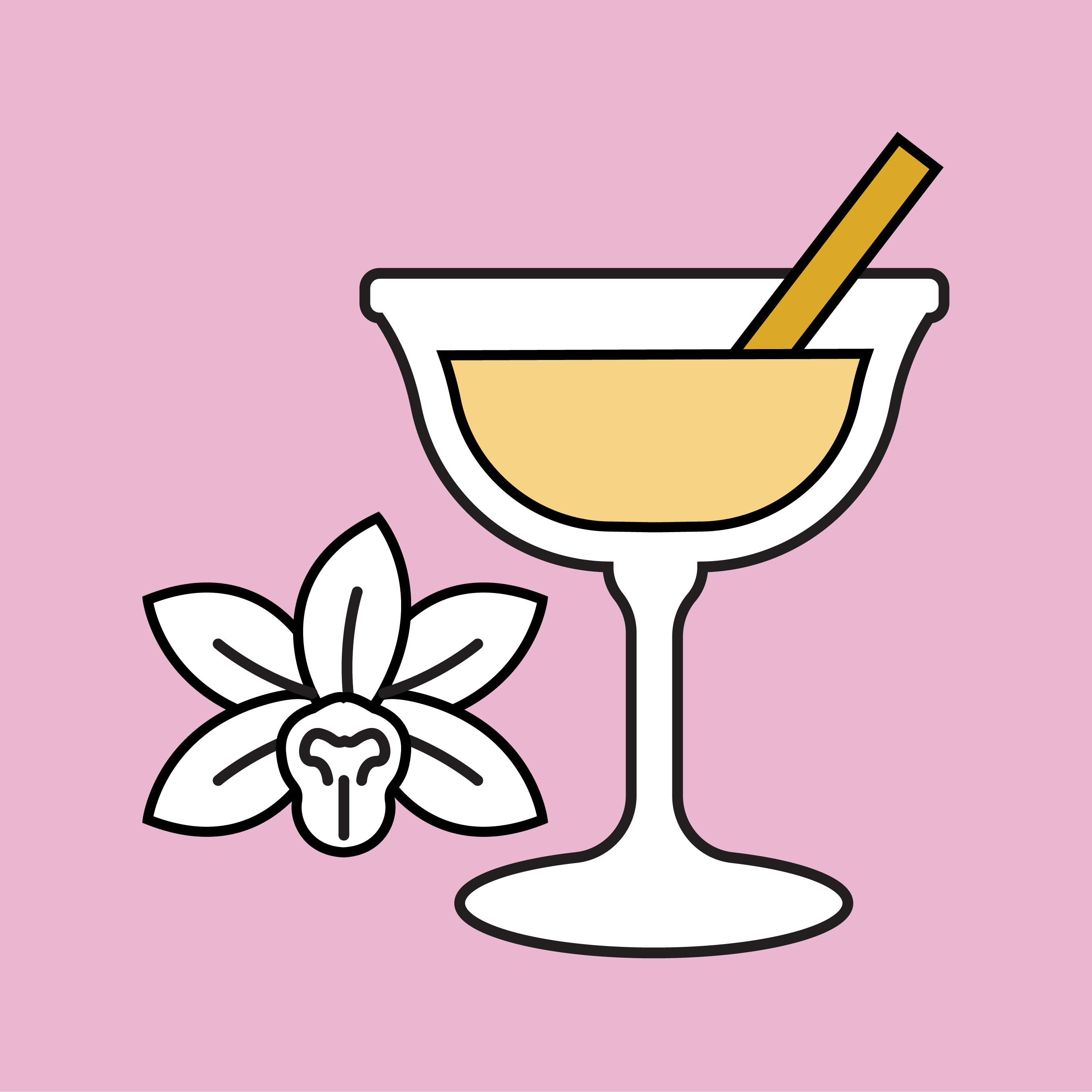 23. Coquito
From: Puerto Rico
Where to find it: La Famosa (1300 Fourth St., SE)
The cocktail's name translates to "little coconut." At this Navy Yard spot, it's made with local distillery Cotton & Reed's rum, which features notes of vanilla and coconut.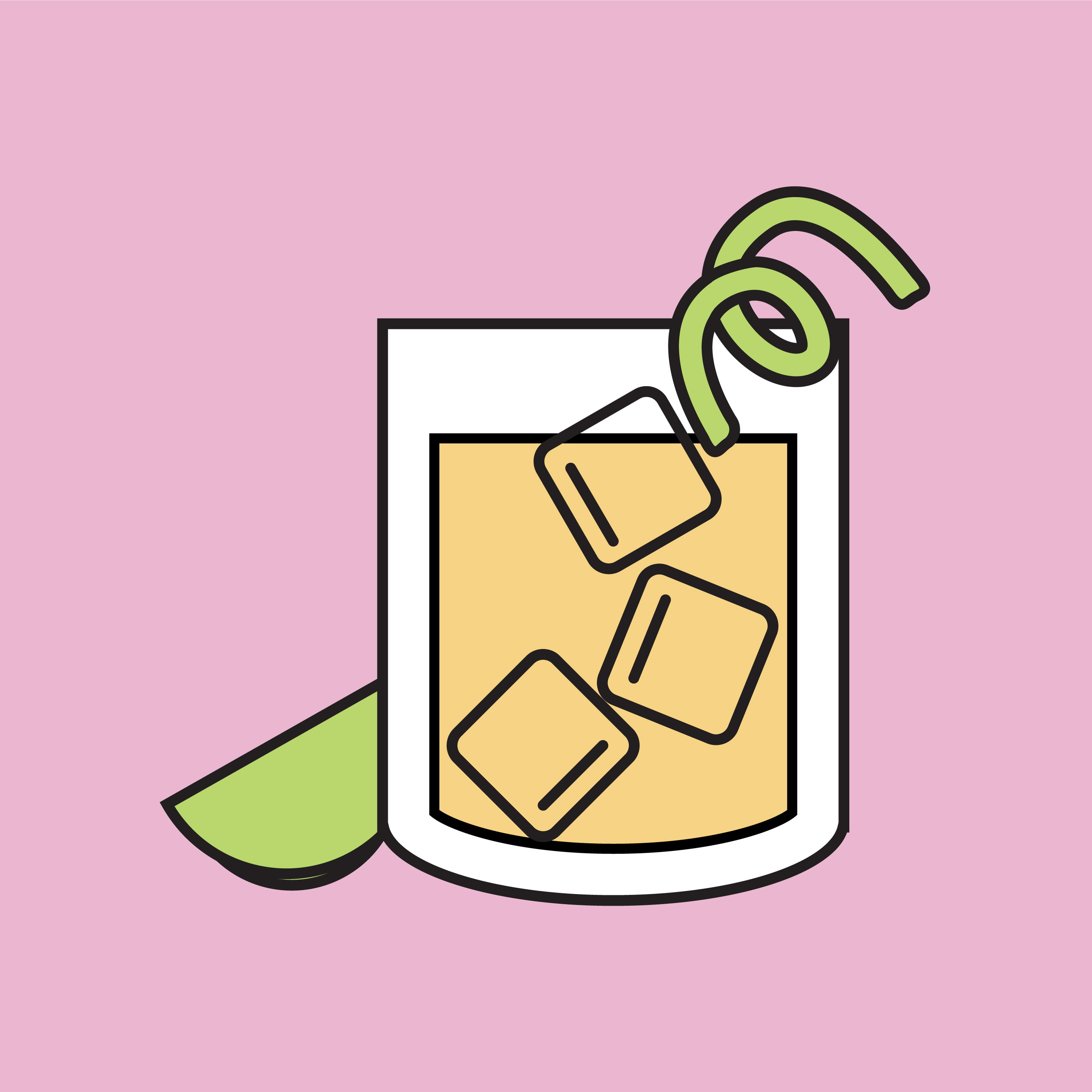 24. Ponche a Crème
From: Trinidad
Where to find it: St. James (2017 14th St., NW)
The festive libation is popular around the Caribbean. The 14th Street restaurant serves the milky beverage with an abundance of citrus peels.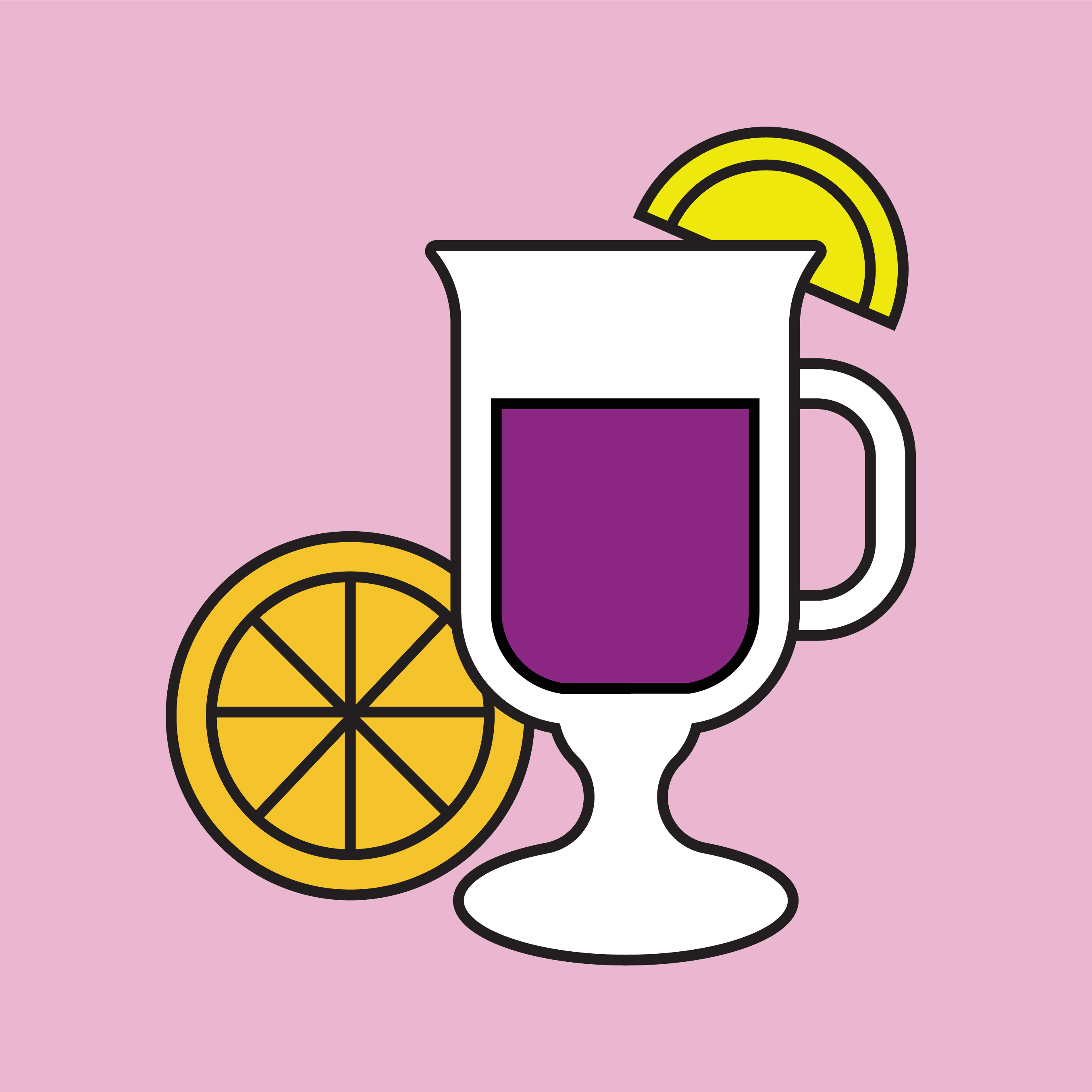 25. Glühwein
From: Switzerland
Where to find it: Stable (1324 H St., NE)
'Tis the season for hot spiced wine, a staple at this Swiss restaurant. Pair the mulled drink with melty fondue for a cozy dinner.
---
Back to Top
Best Holiday Pop-up Bars in DC
Bars are decking their halls with drink specials and spirited decor
View this post on Instagram
1201 U St., NW.
Take a holiday trip to the tropics November 25 through December 31 when the tiki bar converts to a Christmas pop-up. Sip the pineapple Kris Kringle Colada among the island ephemera—think summery drinks and Santa in sunglasses.
2321 18th St., NW.
The cocktail lounge transforms into a merry destination with twinkling lights, Yuletide motifs, and themed seating areas. Visit the holiday bar starting November 25 for spiked eggnog, mulled wine, and a gingerbread-­flavored old fashioned in festive glassware.
28. Chai-vy and Cohen-y at Ivy & Coney
1537 Seventh St., NW.
Head to the Shaw watering hole's annual Hanukkah bar for a hanukkiah-lighting each evening starting December 18. Snack on fried-potato latkes, then take part in a unique holiday tradition: the "shot-norah," a giant menorah affixed to shot glasses for seasonal imbibing. The bar will remain open Christmas Eve and Christmas Day.
29.Bejeweled Christmas Bar at Maxwell Park
1346 Fourth St., SE.
Swifties get a holiday bar in Navy Yard beginning on November 23, decked out by former Miracle on Seventh Street designer Adriana Salame. The glittering decor is inspired by Taylor Swift's "Bejeweled" music video, and drinks pay homage to her discography. There are peppermint shooters, spiked whipped cream, and an espresso martini.
---
Back to Top
Holiday Train Shows To Ride in the DMV
Indulge in the fantasy of a magical train ride, based on the Chris Van Allsburg book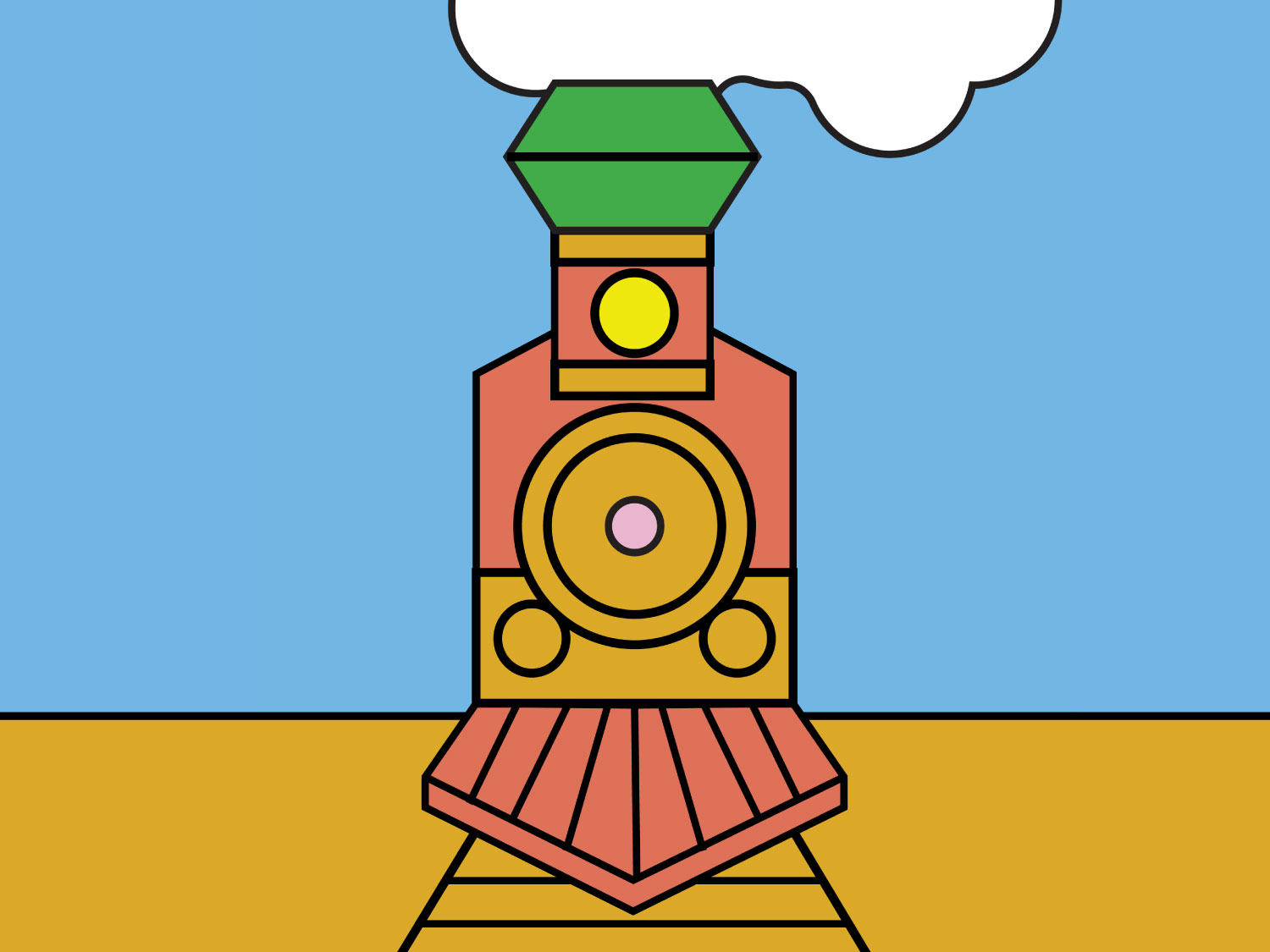 Baltimore | November 25–December 19
The Christmas Eve tale comes to life on the museum's decorated railcar, where conductors punch golden tickets and destinations include the North Pole.
Cumberland and Frostburg | November 25–December 24
Go for the steam-powered option on this train departing from Cumberland and Frostburg. Passengers get a cookie and hot chocolate.
Walkersville, Md. | November 26–December 18
This railroad welcomes a VIP guest during the holidays: Santa, because even reindeer need a break. Snap a photo with the bearded rider while cruising the Maryland tracks.
---
Back to Top
Holiday Shows to Watch Around DC
The season isn't complete without caroling, Christmas plays, and high-kicking elves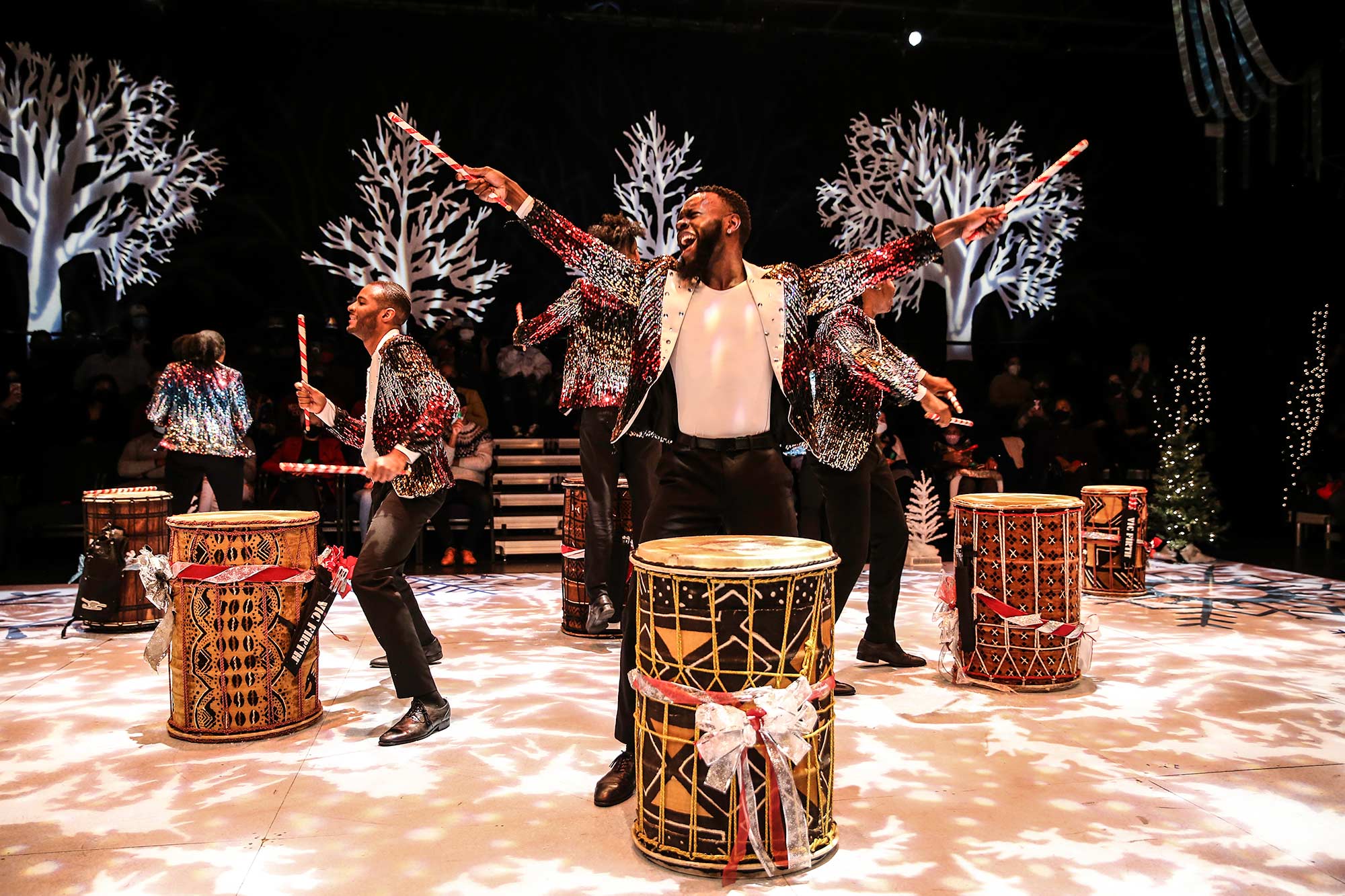 Ford's Theatre | November 18–December 31
See the ghosts of Christmas past, present, and future in Ford's 43rd annual production of the Dickens classic. A sensory-­friendly performance on December 11 dims the lights and the loud noises. $26 and up.
Lincoln Theatre | December 3, 9, and 11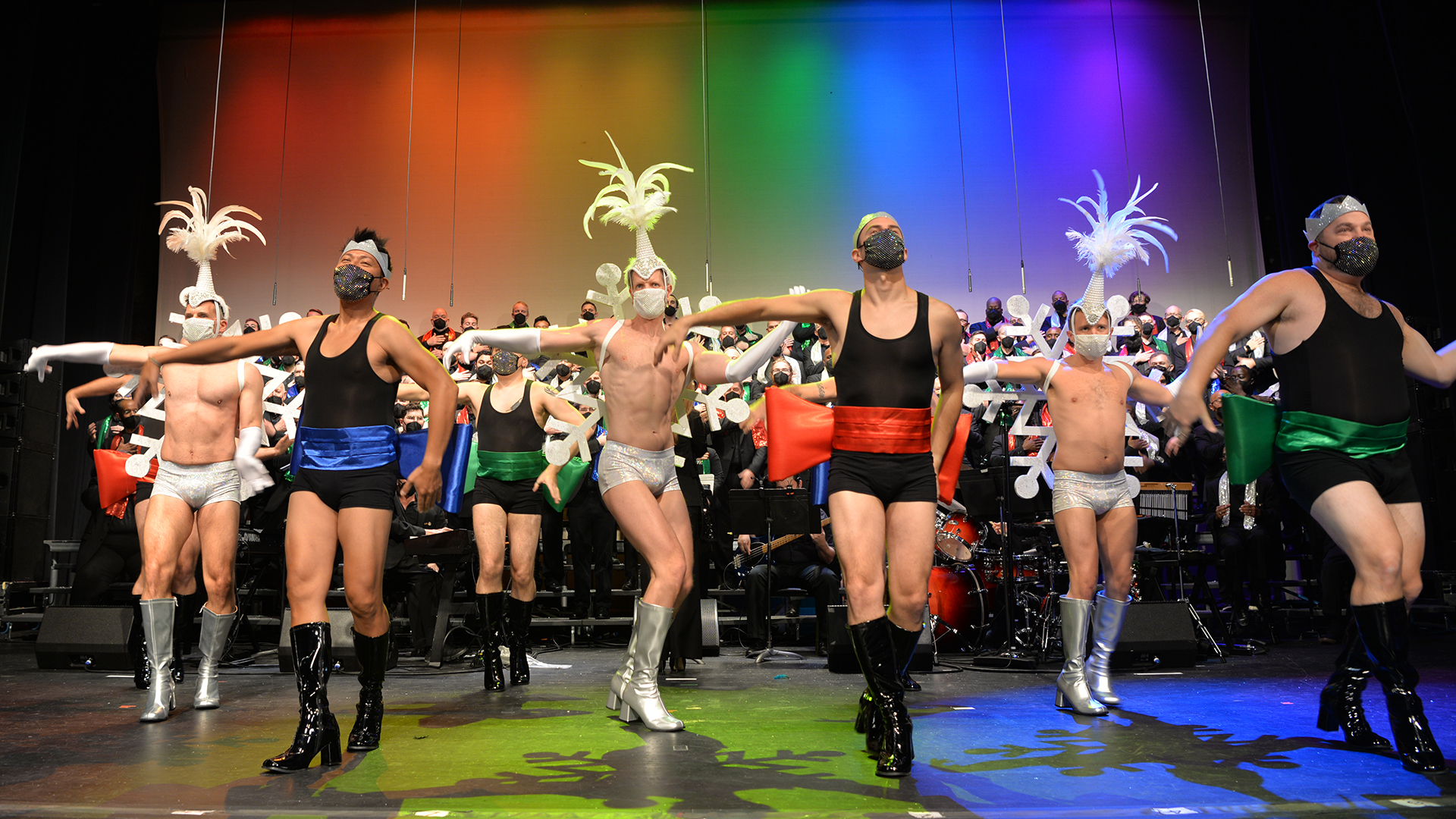 The chorus's holiday show this year features tap-dancing reindeer, kick lines, and a costume reminiscent of a Christmas tree. Expect tunes like "Underneath the Tree" and "Sleigh Ride." $25 and up.
Arena Stage | December 9–18
Step into the holidays with a dance extravaganza celebrating the African tradition of stepping. In this percussive performance, dancers don penguin and polar-­bear suits to jump, flip, and kick. $56 and up.
Kennedy Center | December 15–18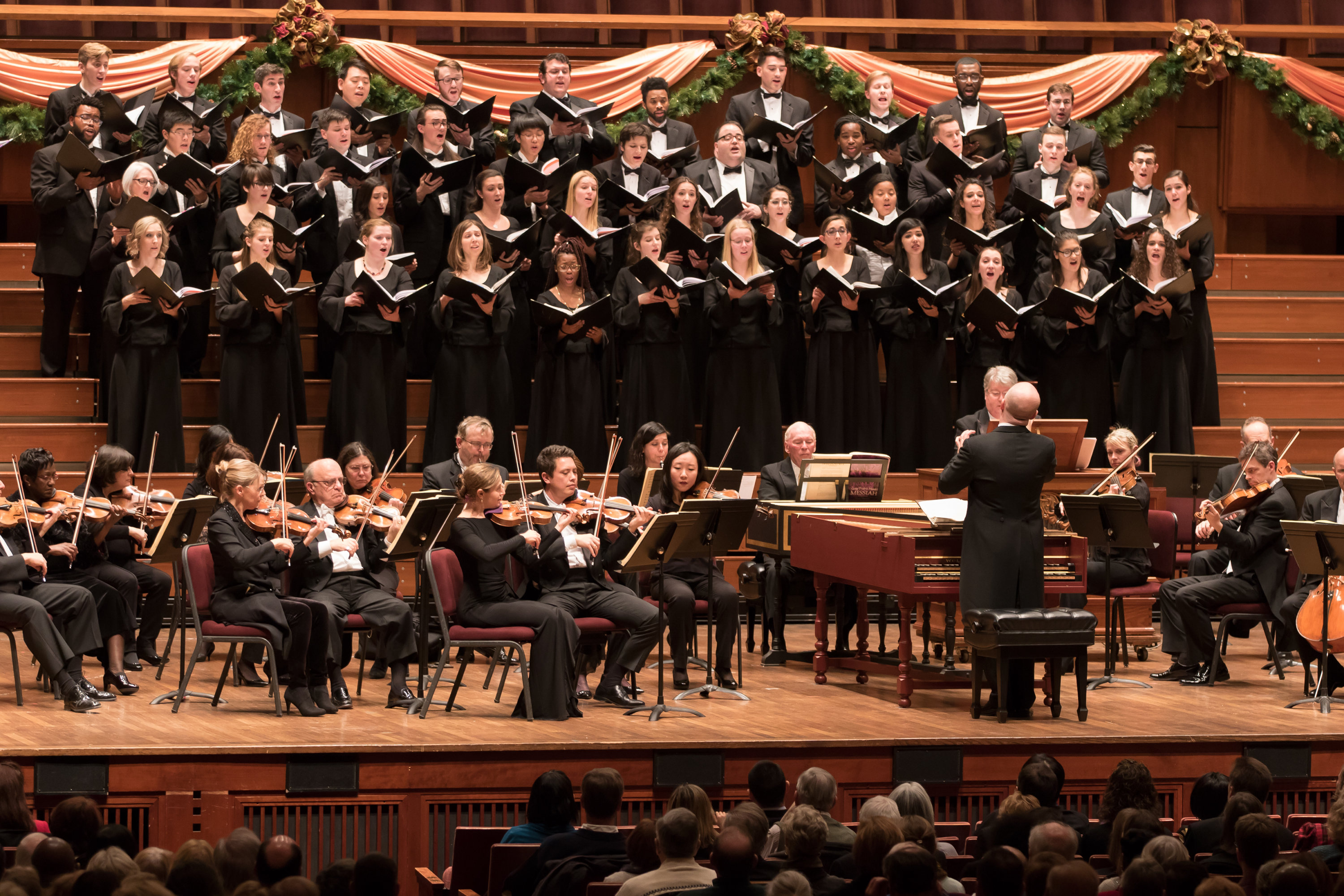 Conductor Fabio Biondi leads the NSO in a rendition of Handel's seasonal oratorio. Vocals are performed by four soloists and the Choral Arts Society of Washington. $39 and up.
Kennedy Center and Strathmore | December 16–23
The Washington Chorus takes on merry carols in this 75-­minute concert with a candlelight processional. Vocals are accompanied by an orchestra for a not-so-silent night. $19 and up.
Capital One Arena | December 26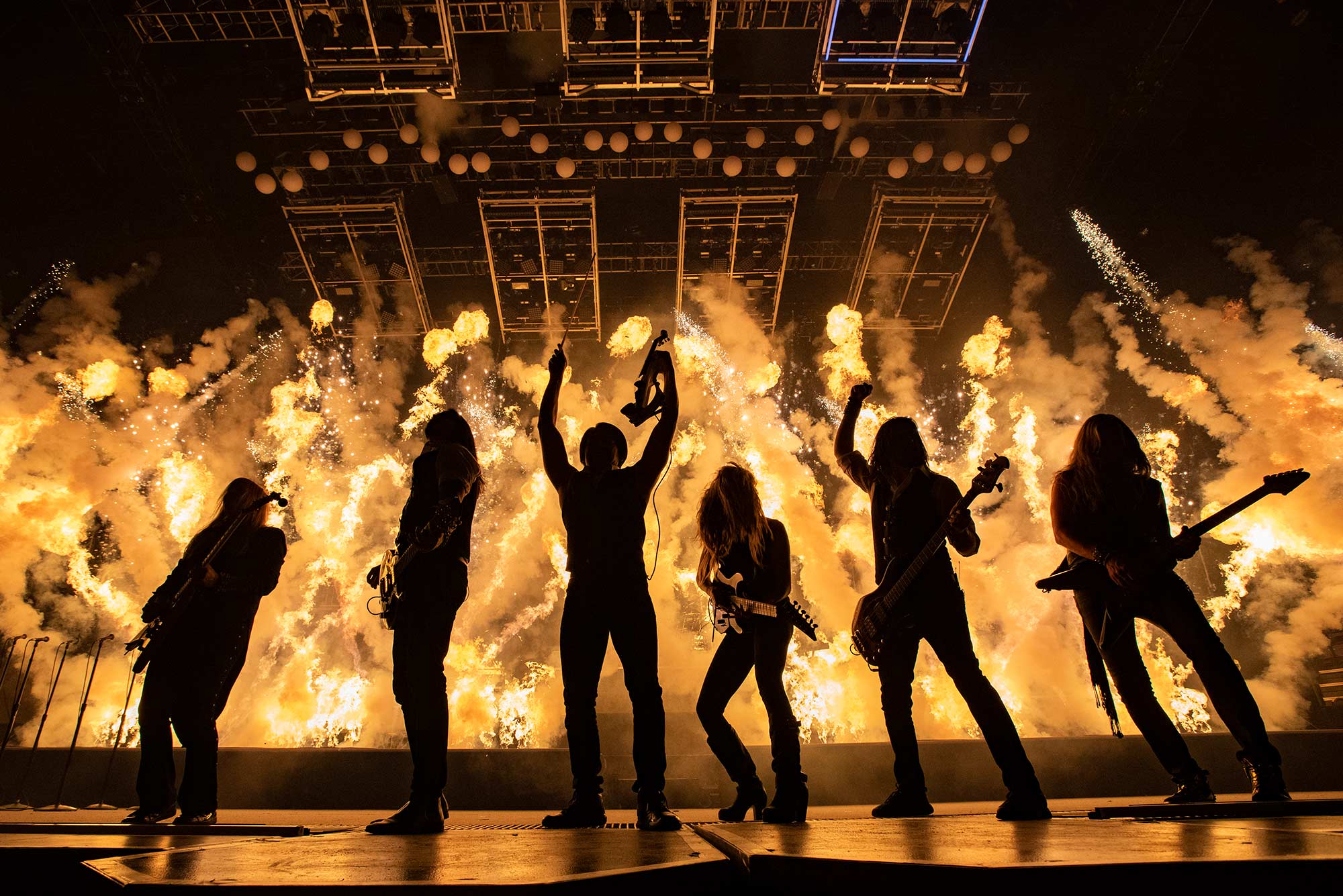 Sure, pyrotechnics and laser beams are not your average holiday light show. But the riotous scene feels festive when paired with this symphonic rock band's big Yuletide sound. $50 and up.
---
Back to Top
Where to Catch the Nutcracker—With a Twist
The nostalgic holiday classic gets a refresh in these productions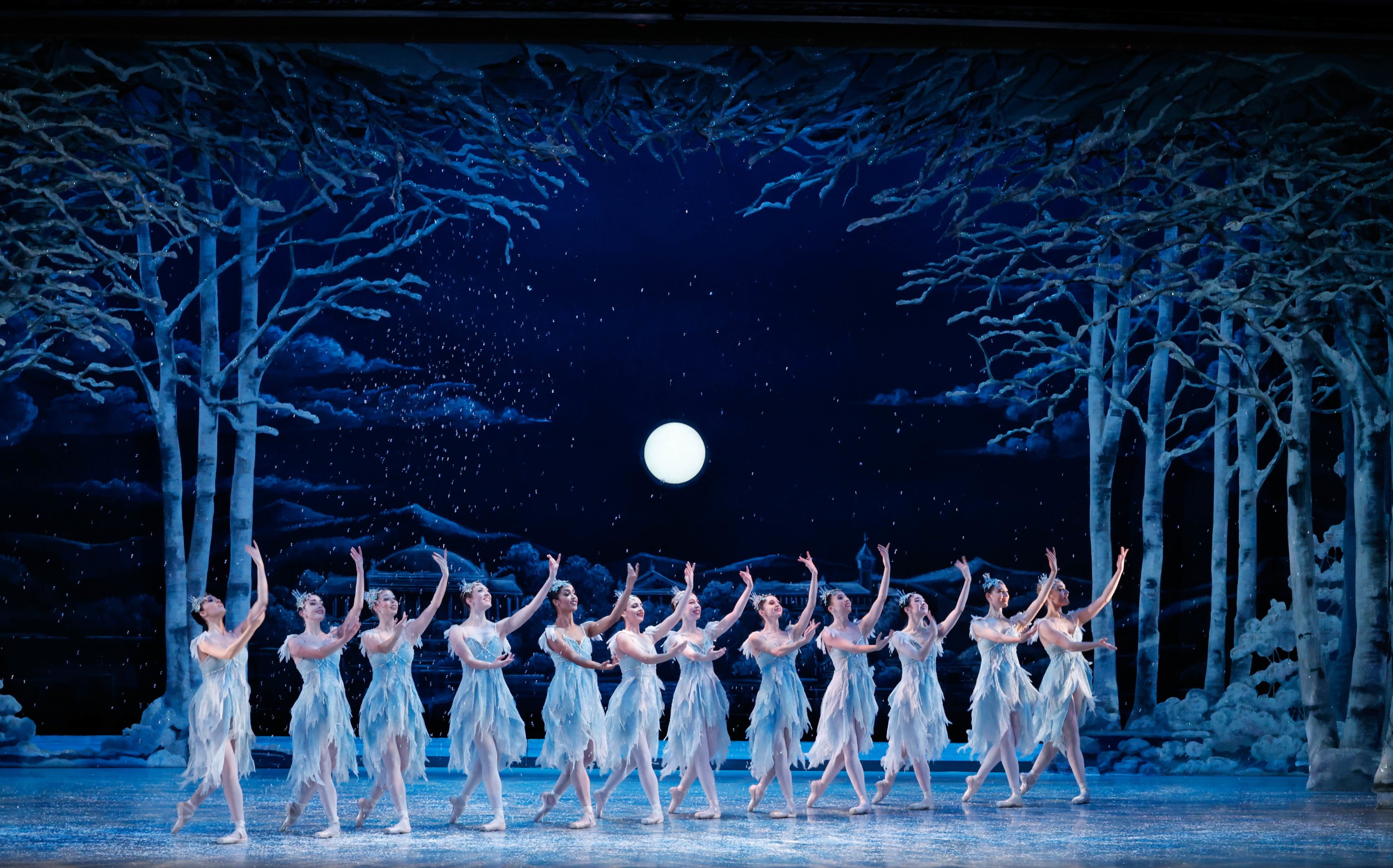 THEARC and Warner Theatre | November 12–13 and November 25–December 30
Time-travel to 1882 Georgetown for this DC-set annual tradition. George Washington and King George (cast as the Rat King, naturally) join Clara and the Prince in the period piece set to Tchaikovsky's score. $49 and up.
Glen Echo Park | November 25–January 1
Life-size characters in elaborate masks perform alongside marionettes and hand puppets in this rendition, with music from the Arlington Symphony Orchestra. Special effects bring the stage to life with simulated fog and snow. $15.
Strathmore | December 19–22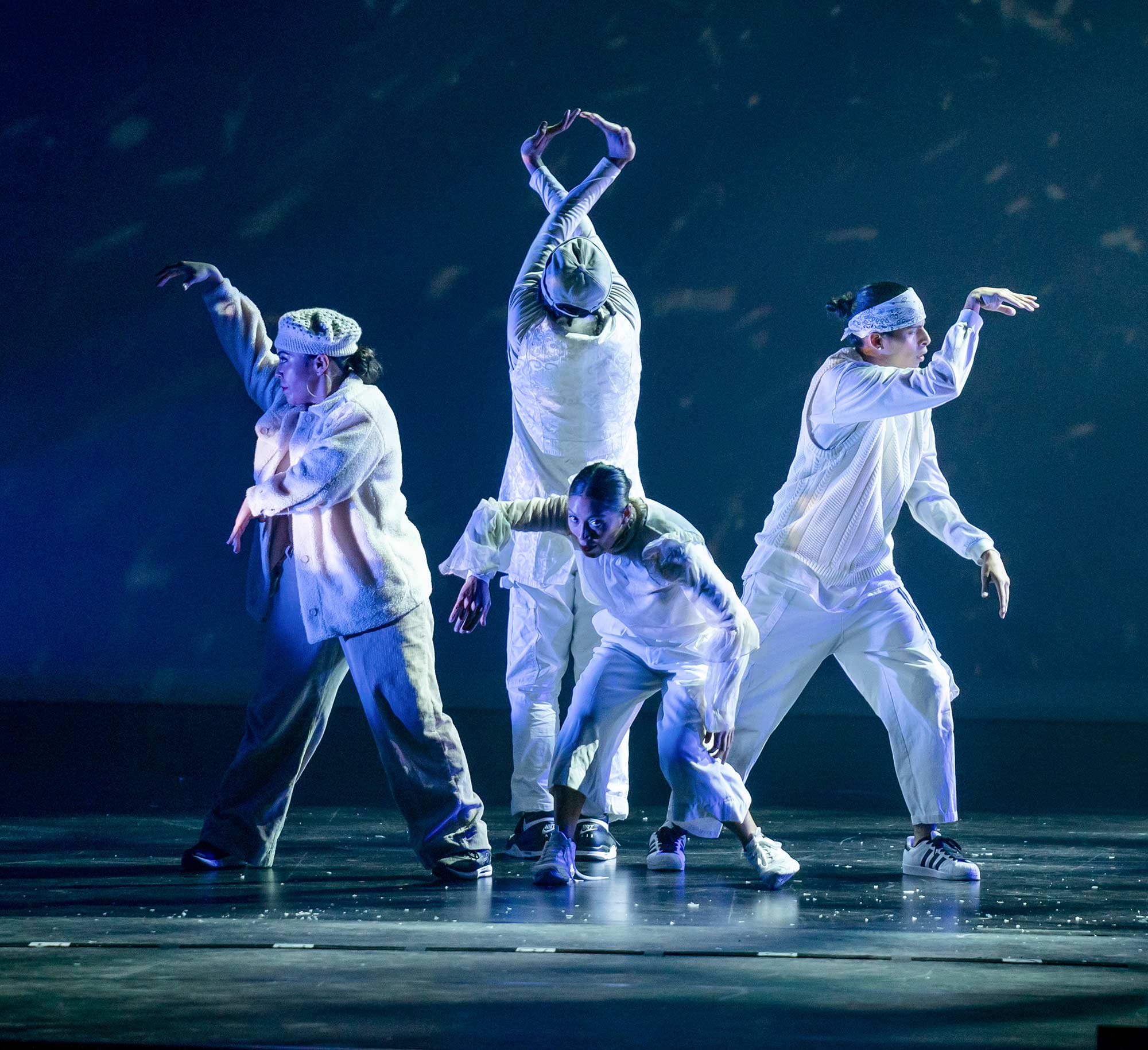 Breakdancing snowflakes and electric violins take the storied classic in an unexpected direction. Hip-hop legend Kurtis Blow opens the show in this version set in New York City with a back­drop of digital art. $34 and up.
---
Back to Top
Attend a Holiday Class
Learn a skill or make a custom gift at these workshops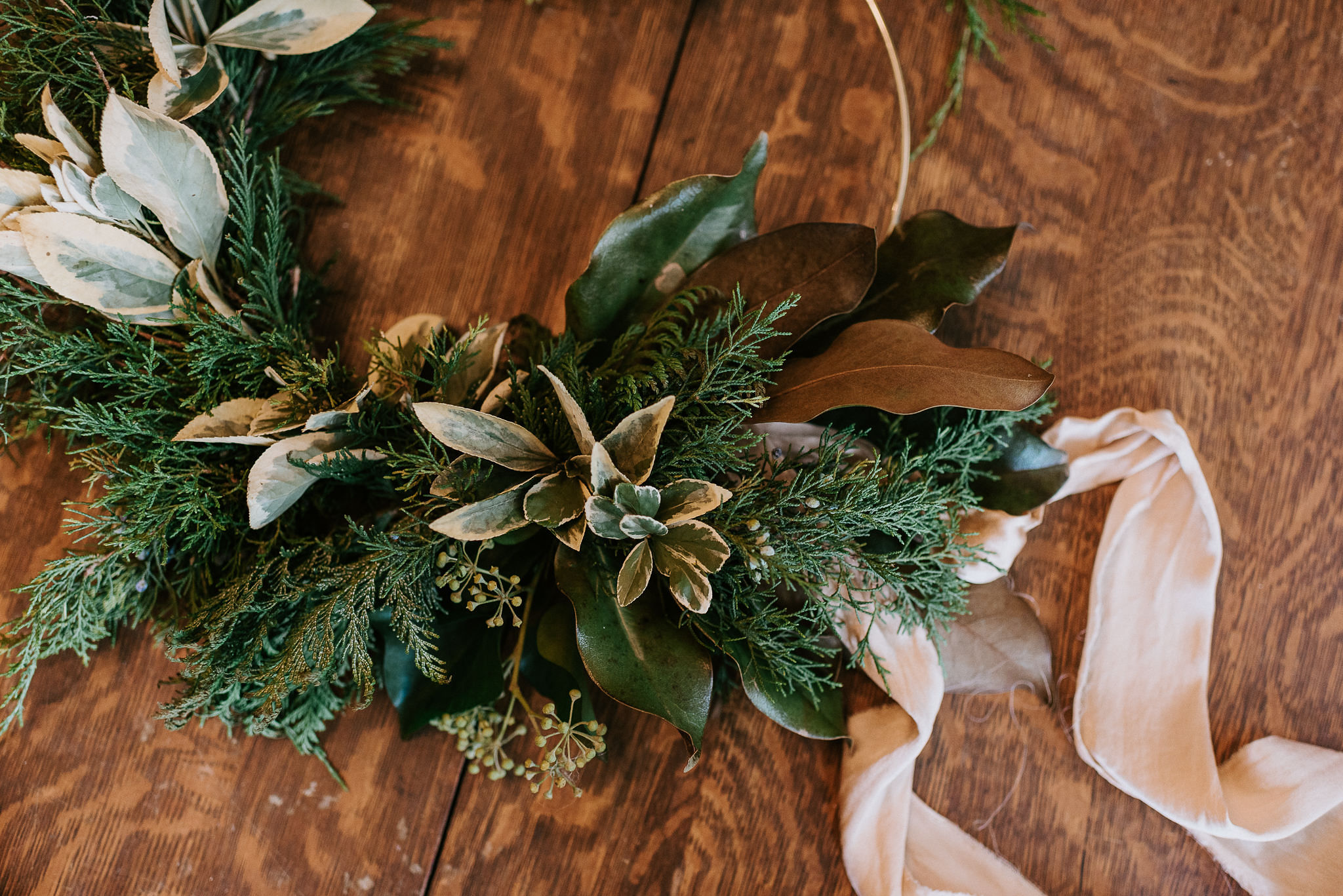 42. Wreath Making
She Loves Me | December 14 and 18
This course at the flower shop's Eckington location includes decorative bits and bobs for a one-of-a-kind evergreen creation. $85
43. Holiday Crafts
Shop Made in VA | December 17
Zhuzh up giftwrapping and get a head start on personalized cards at this holiday craft session. Free
44. Gingerbread
Cork Market | December 3
Build a cinnamon-scented palace at this 14th Street shop's annual gingerbread party. You can also pick up to-go kits containing pieces of the house, icing, and candy decor. $60
45. Ornaments
Shop Made in DC (Union Market) | December 8
Sew plush felt ornaments and personalize them with festive beads. Each pupil gets two decorations: one to give, one for their own tree. $55
46. Gingerbread
McLean Community Center | December 8
Calling all interior-design disciples: Decorate pre-constructed gingerbread houses with frosting, candy, and salty accoutrements. $45
47. Cookie Baking
Hill Center | December 10
You're sure to bring the best baked goods to your cookie swap under the tutelage of former Washington Post food and recipe editor Bonnie Benwick. $79
48. Ugly Sweaters
Shop Made in DC (Georgetown) | December 11
Craft a one-of-a-kind eye-sore for this season's ugly-­sweater parties. Bring your own jumper and indulge in chaotic design. $40
49. Cookie Decorating
Lost Boy Cider | December 13
Learn icing and decorating techniques at this Alexandria cidery, to pull off three Christmas designs on a half dozen cookies. $60
50. Holiday Centerpieces
Metro Flower Market (Chantilly) | December 15
Forget the Christmas ham—the star of your holiday table will be a handcrafted centerpiece with pinecones and ribbons. $85
---
Back to Top
Switch Up Your Latke Toppings
The nostalgic holiday classic gets a refresh in these productions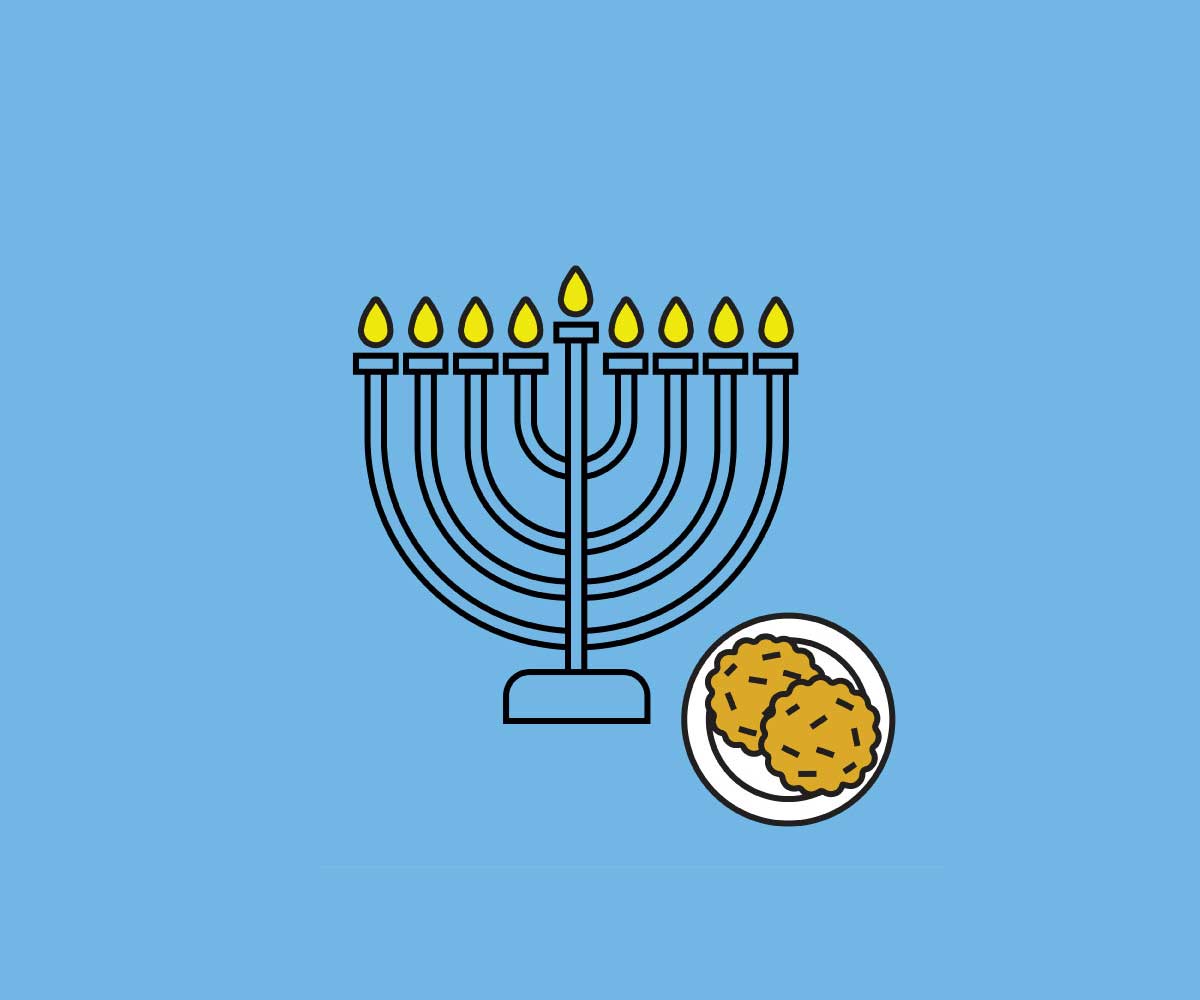 51. Eggs Benedict
Ryan Moore (Sababa)
Swapping English muffins for crisp potato pancakes, the chef gives poached eggs and hollandaise sauce a holiday remix.
52. Crème Fraîche and Caviar
Matt Baker (Gravitas and Baker's Daughter)
Baker jazzes up sour cream with crème fraîche, lemon juice, and grated garlic. Garnish options include salmon roe or caviar.
53. PB&J
Andrew Dana (Call Your Mother)
For a savory twist on the lunchbox staple, Dana builds an open-faced sandwich, topping latkes with dollops of peanut butter and apple jam.
54. Pear and Pomegranate Molasses
Mark Furstenberg (Bread Furst)
The chef sautés pears for a pomefruit cousin to traditional apples. Tangy pomegranate molasses balances the sweetness.
55. Cinnamon Ricotta
Julie Rossler-Thompson (Celebrity Delly)
Soft ricotta cheese is Rossler-Thompson's topping of choice, paired with marmalade. The final touches: cinnamon and sea salt.
Illustrations by Connie Zheng.
This article appears in the November 2022 issue of Washingtonian.